Access information for 15 Colston Street studio
We understand that access needs are broad and diverse and can include physical, sensory, emotional, intellectual, and financial considerations.
We hope this information is helpful – please contact us directly on 0117 929 9005 or info@aproductions.co.uk if you have further questions regarding access.
Opening Hours
Our office spaces are open from 9:00h-18:00
Our team works a mix of in-office and remote working environments.
Public Transport
Bristol Temple Meads is 17 minutes' drive, 16 minutes by bus, 22 minutes' walk from 15 Colston Street.
Bus Routes which stop at Bristol City Centre: 1, 2, 2a, 3, 4, 6, 7, 8, 23, 24, 42, 43, 44, 45, 70, 73, 75, 76, 90, X1, X4, X6, X7, X9.
Nearby Car Parks
Bond St South, Broadmead, Bristol BS1 3BD
Trenchard St, Bristol BS1 5AN
Car Parking
We have car parking spaces available on site
Building Access
Ramp/Main Door
Ramp: 1.2m wide with 5° incline
Front door dimensions: 80 cm x 2m
Door handles and pass readers are all at accessible heights. Our front door intercom is at 1.25m high from the ground.
Level Access and Lifts
Our studio is located at the top of 15 Colston Street on floor 4.
There is a lift to our studio and level access to our meeting rooms and communal areas.
Lift doorway dimensions: 82cm x 2m
Access Infrastructure
Internal doorway dimensions: 79cm x 1.9m
Accessible Toilet
An accessible toilet can be found on the nearest to our kitchen facilities.
Room dimensions: 2.3 m x 2.7m
Doorway: 85cm x 1.9m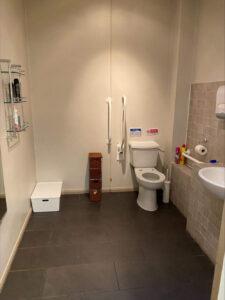 Assistance Dogs
Assistance dogs, and assistance dogs in training, are welcome throughout the building. Well trained pet dogs may also be allowed.
Quiet Space
There are two quiet rooms available on our floor of the building.
For a wheel-chair accessible quiet space, please speak to our team who can book a meeting room.
Events, Interviews and Other in Person Activities
Many of our events are welcoming and accessible for people with a variety of needs and/or can easily be adapted to meet different needs. Please contact our team if you need any reasonable adjustments or assistance.
Communications
Our team communicate via email, telephone and Zoom.
Large print / plain text versions of documents are available upon request.
Online Events, Interviews and Other Remote Activities
We welcome requests for a BSL interpreter as and when needed and will attempt to accommodate where possible.
Any resource links shared either prior to or after the session can also be shared via email where possible.
In advance of all our online sessions, we contact participants to confirm their access needs.