Working in collaboration with BBC Studios Kids & Family Productions, we're part of the team that scooped a global award for our work on hugely successful children's TV series, JoJo & Gran Gran.
JoJo & Gran Gran was named Best Mixed-Media Series at the Kidscreen Awards 2022. The 2D animated series is produced by BBC Studios Kids & Family Productions for CBeebies in collaboration with A Productions.
We worked on both series one and two, which aired in March this year, with the team currently working on series three. The multi-award-winning mixed media series, is inspired by characters created by Laura Henry-Allain MBE, celebrating that special relationship between a grandparent and a child.
The Kidscreen Awards are a high-profile celebration of excellence in children's content, paying tribute to outstanding TV and digital media work that keeps kids and families entertained. Hundreds of entries are received from around the world each year.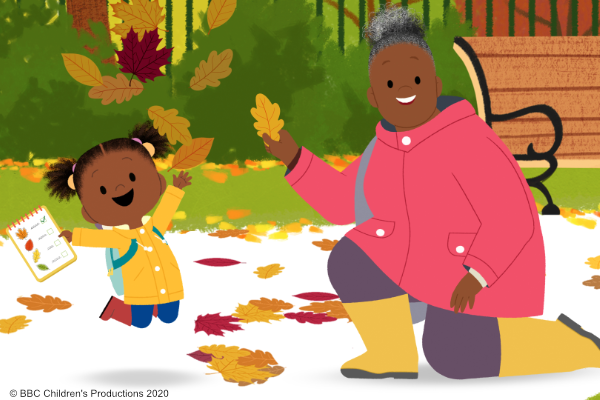 Patricia Hidalgo, Director BBC Children's and Education said: "JoJo & Gran Gran is one of our tent-pole preschool series on CBeebies and BBC iPlayer, and a much loved title by families across the UK. We are really happy to see it resonating internationally with this Kidscreen award."
Katherine McQueen, joint managing director of A Productions, said: "A huge congratulations to the entire JoJo & Gran Gran team; we are immensely proud of what we've been able to achieve together. Through authentic storytelling, JoJo & Gran Gran has captured the imagination of so many children and families, as well as illustrated the importance of diverse on-screen representation. We are excited about the future of this ground-breaking series and thrilled to be part of its journey."
Tony Reed, Genre Lead Animation and Puppetry, BBC Studios Kids & Family Productions, added: "We are thrilled to have picked up this award for JoJo & Gran Gran, which continues to strike a chord with its audience and represents an authentic slice of life in the UK."
We undertook extensive research and interviews in Bristol, creating a panel made up of a range of voices from local communities that worked closely with the creative team in helping to shape JoJo & Gran Gran.