Katherine McQueen, our joint managing director here at A Productions, has been included in the E2E Female 100 list, launched today in association with The Independent. Click here to view the full list.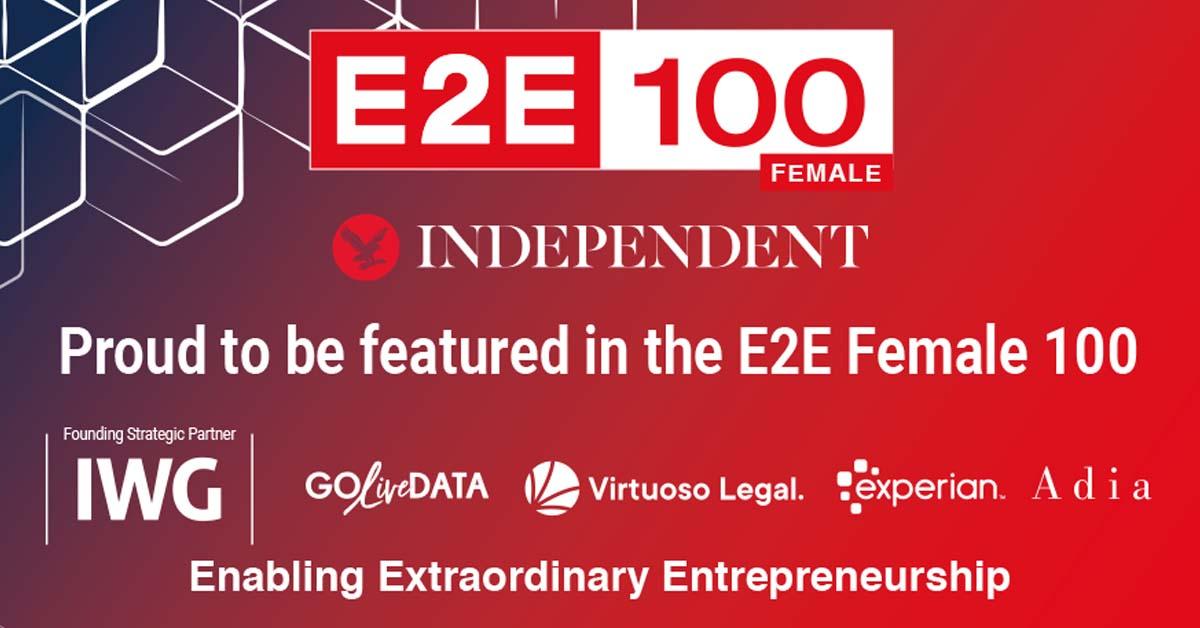 The list celebrates the most influential, fastest growing and highest performing female-led businesses in the UK. Celebrating women in business across a host of sectors, E2E 100 shines a spotlight on leading innovators and changemakers, promoting unique businesses and celebrating entrepreneurial excellence.
Katherine McQueen said: "I feel very honoured to be featured in the E2E Female 100 list alongside many inspirational female business leaders. Leading A Productions with joint managing director and founder Mark Taylor is a real joy and a privilege, thanks to our incredibly talented team and the amazing roster of productions we work on – both past and present. For me, it's crucially important to ensure A Productions is a welcoming, diverse and inclusive place to work; I believe everyone should have the opportunity to shine and I am committed to creating authentic shows that truly speak to their audiences."
Shalini Khemka CBE and founder of E2E, says: "To see so many extraordinary multigenerational women in the top 100 from a host of innovative sectors is a testament to the amazing work so many women are achieving, daily. From vegan kitchens to finance and leadership, the diverse range of businesses which have not only been founded survived or thrived during the pandemic is incredible. Each and every person on this list should be incredibly proud of what they have achieved and will continue to achieve in the years to come."
Assistant Editor of The Independent, Caroline Gammell, said: "We're delighted to be featuring such an exceptional group of women who are powerhouses in their own individual sectors and who have seen exceptional growth over the past three years. The E2E Female 100, in association with The Independent, gives us the chance to showcase the amazing female talent around the UK and to inspire the next generation of female entrepreneurs, who are a much-needed part of our future economy. We can't wait to see what they do next and are looking forward to championing female leaders for many more years to come."
A Productions is a leading, creative-led animation production studio that makes iconic children's content for TV and film, telling stories authentically for UK and global audiences.
Katherine has been joint managing director of A Productions since 2019.  She began her career by taking a role as a production assistant at A Productions in 2002 after studying English at Exeter University. Katherine worked her way up to production manager, then producer, before getting involved in running the business with Mark.
Her career to date has included producing the children's TV series Boo! for the BBC, working with Sesame Workshop on producing animation for iconic and much-loved brand, Sesame Street, and with BBC Studios Kids & Family Productions on JoJo & Gran Gran for CBeebies, the first UK pre-school animation to centre around a black British family.
Since 2018, the Bristol-based company has grown significantly to support an ever-expanding roster of productions. A Productions is part of Cyber Group Studios, a leading multi award-winning international producer and distributor of animated programmes.