We were delighted that Sesame Street: The Nutcracker Starring Elmo and Tango scooped a Royal Television Society (RTS) West of England award last night.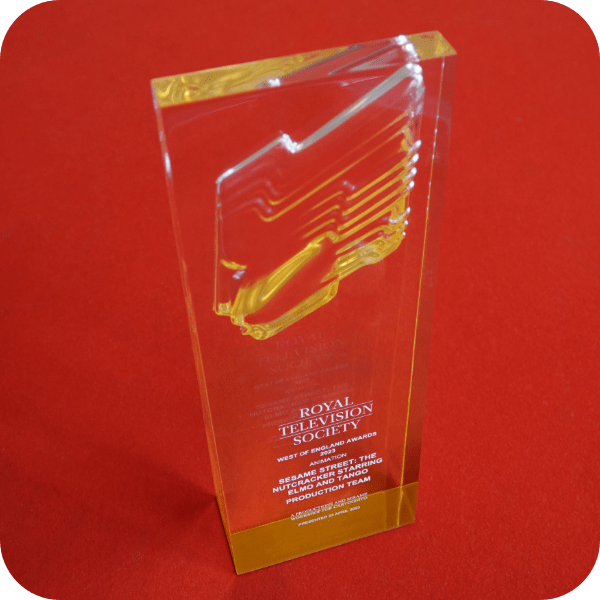 The annual awards celebrate the region's creative community in the fields of on-screen talent, craft, scripted, animation, regional television news and across a range of factual programming including natural history and documentary.
We are proud to have developed the animation and design look of Sesame Street: The Nutcracker Starring Elmo and Tango for the nonprofit educational organisation Sesame Workshop. This animated special, which retells the classic story Sesame Street-style, was nominated in the Animation category, for the best animated Programme/Content or Series, broadcast on any platform.
Lynn Barlow, Chair of RTS West of England and Assistant Vice-Chancellor Creative and Cultural Industries Engagement, UWE said: "An amazing range of winners across all genres, proving the West Country's programme makers are at the top of their game."
Katherine McQueen, joint managing director of A Productions, said: "This win is testament to the hard work and creativity of everyone involved in this fun-filled, heart-warming animated special and it's fantastic to see this recognised – congratulations, all!"
This 30-minute festive feature follows Elmo and his puppy Tango on a fantastical adventure filled with new music and friends, and where Tango speaks for the very first time. It is a celebration of the greatest gift of all: friendship. Sesame Street The Nutcracker streamed in the US in December last year on Cartoonito, the preschool block on HBO Max, and will air on PBS KIDS in 2023.
The RTS West of England Awards in association with Evolutions Bristol took place on Sunday 23rd April at the Bristol Old Vic with a gala ceremony hosted by actors Katherine Kelly and Joe Sims.