"Everything I've worked on I feel has had a social value", says Duncan, head of production at A Productions, reflecting on his career so far.
"From Driver Dan's Story Train for CBeebies, which teaches children to enjoy books, to JoJo and Gran Gran, the first UK pre-school animated series to centre around a black British family, I feel like what we're doing is valuable and I feel very fulfilled doing that kind of work."
Duncan, 50, has worked at A Productions for over 21 years, but didn't originally work in the industry. After a degree in fine art in a public context, specialising in stained glass, Duncan took a temporary job at The Body Shop, eventually managing branches across south west London. However, he didn't feel it was what he wanted to do long-term.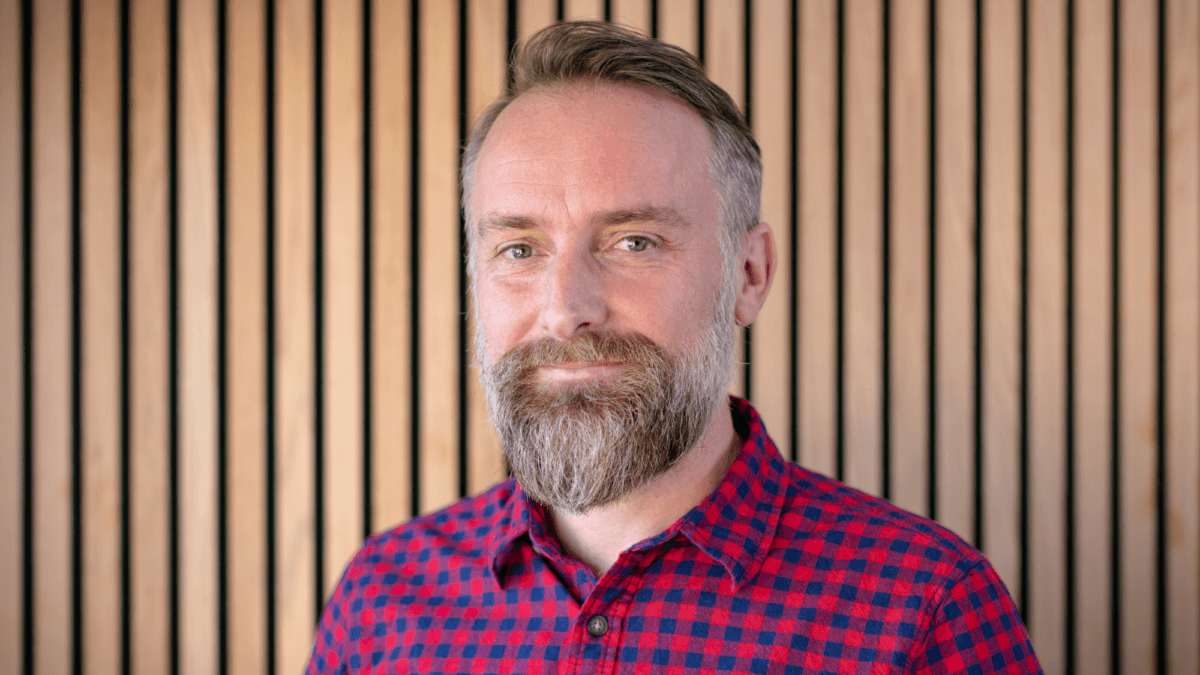 It was thanks to some careers advice he received, which recommended pursuing a role in animation, that Duncan ended up doing a postgraduate certificate in animation at Central Saint Martins in London. "It was the combination of the technical and creative aspects of a job in animation that appealed to me", says Duncan.
"I was doing 3D animation and I loved it straight away", says Duncan, reflecting on the course. He then moved to Birmingham for an animator role on GMTV show, Cubeez, before taking a contract for a short film for Channel 4 which instigated his move to Bristol – and he's never looked back.
"I loved being here. It suited me. I like the city because it's such a vibrant and interesting place to be. There was already an established animation industry here and it felt like there was a lot of opportunity – to meet people, share ideas and to really develop as an animator. That has continued to grow and thrive and it still feels like a great place to be a part of."
Duncan then began working at A Productions on a pilot for Boo!, which was commissioned for CBeebies, where he worked as a lead animator. Progressing from senior animator to animation director to head of production, Duncan says: "It doesn't feel like I've worked here for over 20 years. One of the great things is the variety of the work we do. Each series seems like a new job."
"My role now is to oversee all the productions and pipelines, doing a lot of the recruitment and setup, as well as spending time troubleshooting, helping to solve technical problems."
What does he enjoy about the job? "I enjoy seeing the final outputs, all the people in the different teams coming together to make some amazingly beautiful shows."
"I agree with the company's creative vision; We like to push boundaries and not just opt for the simplest choice, but the best choice."
Currently, A Productions is working on exciting shows including: Series 3 of JoJo and Gran Gran for CBeebies (produced by BBC Studios Kids and Family Productions in collaboration with A Productions); new adventure-comedy superhero series, Digital Girl (Produced by A Productions with Cyber Group Studios as worldwide distributor); Series 2 of the Makery (with Terrific TV), commissioned in the UK for SkyKids and in the US for Peacock; and segment animations for Series 54 of Sesame Street, for Sesame Workshop.