Most graduates don't expect to walk straight into a job in their chosen field one month after graduating but Ezi Tasie did just that.  Having graduated with a BA Hons in Animation from the University of the West of England Bristol last August, he attended a Toon Boom course run by A Productions, got chatting to the producers and discovered there were some upcoming opportunities. One month later, 21-year-old Ezi was working on Bea's Block, an upcoming animated series for Cartoonito from Sesame Workshop.
Ezi says that one of the reasons he had the confidence to approach A Productions is because the UWE Bristol course is great at preparing students for working in the industry. Not only does the three-year-course cover the whole animation production process but the course leaders are immersed in the industry and regularly alert students to opportunities for work experience, workshops and networking opportunities so they can make connections while they are studying. Meanwhile, A Productions has a culture of nurturing new talent with a growing team and is always looking for keen animators.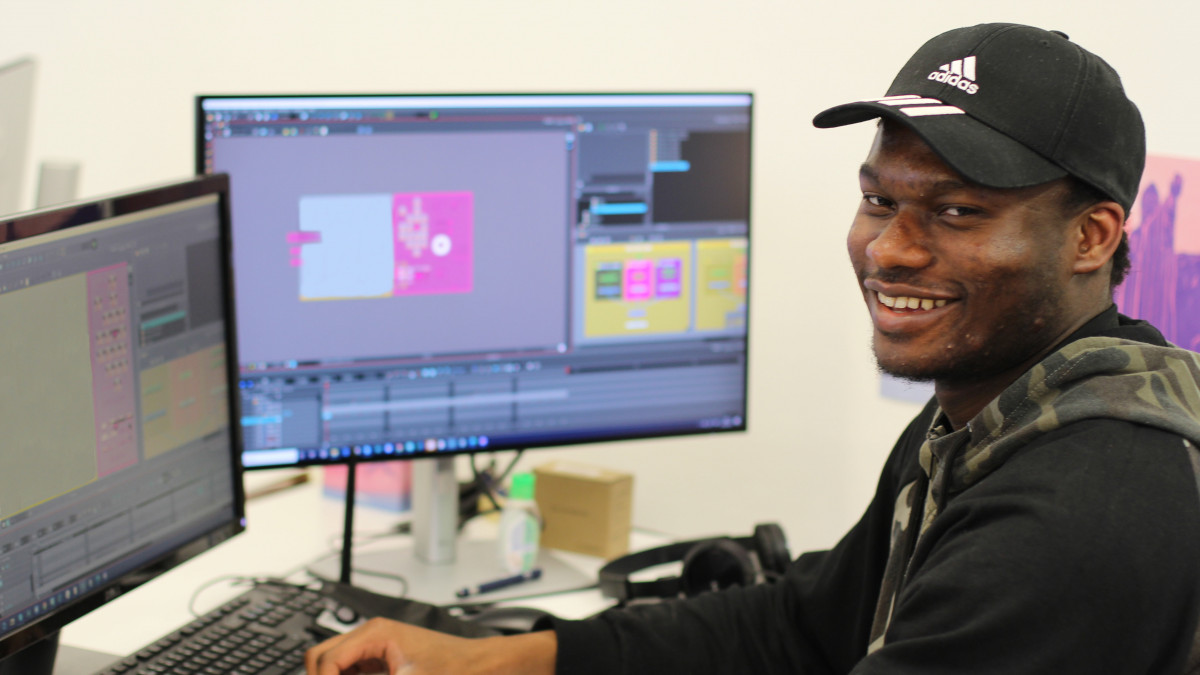 Ezi says: "When I started obviously it was all new to me, but A Productions gave me training and learning on the job is the best way to get up to speed fast, so I immediately got to play with different animation rigs and pretty quickly I was working on Bea's Block.  The team at A Productions is really supportive, the industry can have a negative reputation for being stressful but that's a misconception, here we genuinely all work as a team and help each other out.
"My average day involves animating different shots. I will often be bringing expression to the characters by making their eyes move and lip-syncing. Every now and then I'd dabble in 3ds Max to help the 3D team export previews and very rarely, tweak shots.
"Bringing the characters to life is fun, it's also a great feeling knowing that you are contributing to a TV show that will air on a kids' TV channel. Kids' TV holds a special place in my heart, it's the first place I was exposed to the art of animation, and it's also where most people first learn about animation. I still love many of the animated shows I watched growing up, shows such as Dragon Ball Z, Naruto, Bleach, Akame Ga Kill, and other iconic Japanese anime. I also spent a lot of time watching shows on the Cartoon Network. Those shows were a big part of my childhood and piqued my interest in the art form which encouraged me to pursue a career in animation."
A Productions is producing Bea's Block for Sesame Workshop, a new animated preschool comedy series that draws on the ubiquity of toy blocks to bring the diverse and inclusive neighbourhood of Blocktown to life.
Ezi says: "I'm just starting out in my career so animating every day in a studio that is growing and working on some of the most iconic kids' TV programmes ever made is a fantastic opportunity.  I am learning the ropes and with this experience I hope to carry on in the industry and maybe one day direct my own animation series.
My advice to graduates coming into the industry is, don't think job interviews are the only way to get jobs, go on courses, workshops, talks, do anything you can to meet people in the industry, it's all about connections and willingness to learn. "